After FDI 2015 Annual World Dental Congress in Bangkok
페이지 정보
Date
2015-10-14 01:15
Hit3,139
본문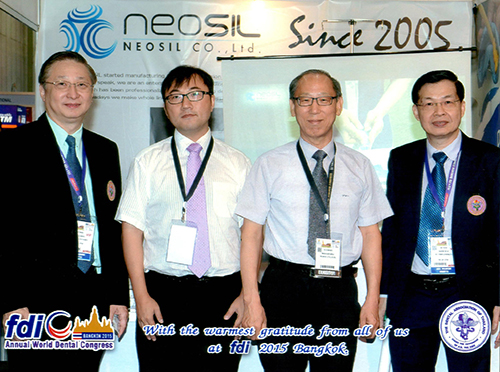 At Bangkok FDI 2015 Annual World Dental Congress, which was convened from Sept. 22 to Sept. 25, 2015, Neosil attended as an exhibitor. We met a good number of dentists and dealers from many countries. They wanted to buy our products and to be our agents in their countries. That was extounding achievement.
Our company had exported to Hong Kong, Taiwan, Australia, Guatemala, China, Rep. of South Africa and USA.
This exhibition must be our turning point to take a step forward to Global market.
The superior quality of our products seemed to reach to perfection since the most of dentists & dealers were satisfied and wanted to order them after testing them at the show.
From now on, we,Neosil resolve that we'll grow to middle-standing global enterprise by elaborating the quality of our products and by serving customers with thoughtful counselling.
Reminding happy experiences with our customers, we attached some pictures from FDI 2015.
Thank you for our old friends in foreign countries.
Especially we greet and appreciate dentists and dealers who met us at the show and want to be our new friends.
We hope relationships with people who visit our company, to be develped as continuous and mutually beneficial ones.
Thank you.
Sincerely yours, Wooryong Ryou, CEO of Neosil Co. Ltd.